Chip cutting and removal is a production technology that involves the elimination of chips until the desired shape is obtained through the use of a cutting edge or tool.
This method can be carried out by an operator using special machine tools, or CNC machines can be used with which large quantities of parts can be machined with high quality control.
The associated advantages with chip removal as a method of modelling the shapes of objects have very interesting aspects such as
Extreme machining precision: it is possible to obtain geometric configurations, degrees of tolerance and surface finishes that are not able to be obtained with any other technique;
machining is flexible: the shape of the final product is pre-determined, so the same machine tool can produce different types of product
Despite the undoubtedly positive aspects, there are problems you have to consider:
The surface of the workpiece may be rough due to chips or wear on the cutting edge;
Formation of burrs during the operation;
The presence of vibrations which can compromise the quality of the end result.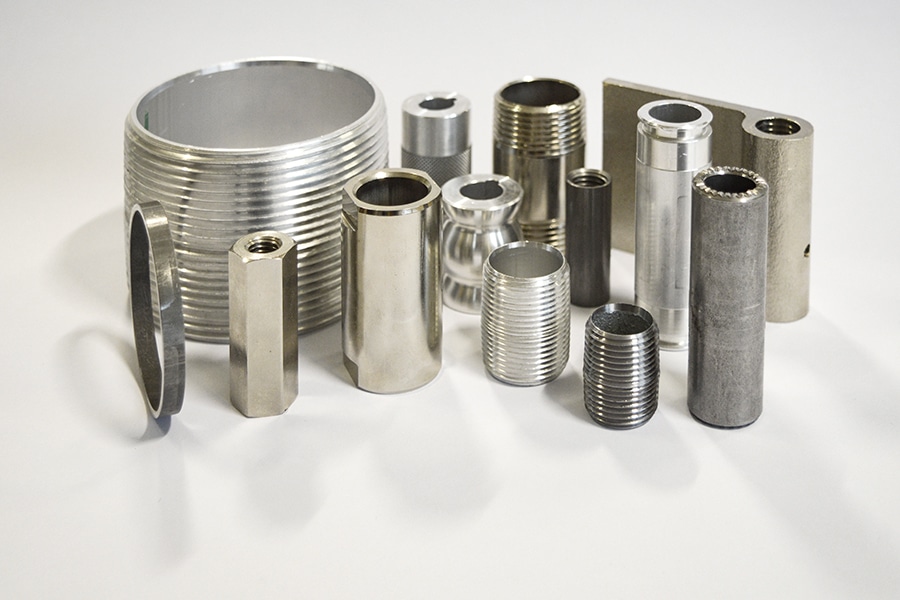 Are you a manufacturer of bushings, fittings, nipples or do you need more complex machining operations such as threading, chamfering, boring and tapping?
Sinico machines offer numerous possibilities to optimise your production process. For this type of product the best range is the Top Line. It consists of three models:
Top 1100 CNC Plus;
Top 1100 R2 CNC;
Top 2000 R1 CNC.
Choosing the right machine for you depends mainly on the size of the part to be produced and the complexity of the operations to be carried out.
The machines in the Top line are capable of cutting and removing more than 2000 parts per hour from bars. They have four operating units, freely configurable and with the possibility of adding radial heads.
Each unit has the most sophisticated tools for controlling the quality of parts produced, ensuring that you reduce your production costs and improve your profit margin.
Compare the different machine models available and contact us for more information.