The idea
300 pieces per second, this is the average production rate of SINICO machines worldwide. This is the prodigy on which we pride ourselves.
Our operating philosophy is born from the experience of the company's founder, Egidio Sinico. This same philosophy continues to inspire his children: a permanent imprint of devotion to work, product quality and correct market placement. The experience acquired in more than 50 years of business serves as a valuable guide on how to address an increasingly variable and flexible market. A team of experts always on the lookout for innovative solutions and a cutting-edge machine shop: this is the environment in which we have forever nurtured our passion for the development of technologically advanced works, tailored to suit the most demanding needs.
After a brief period working as an artisan, the company founded by Egidio Sinico in 1962 began the production of hydraulic presses for the local market, quickly focusing its attention on machine tools for chip removal. The company developed a manual machine prototype for the centring of drive shafts, which soon became the starting base for the production of cutting/centring machines (TC model, 1969).
In 1972, the first rotary transfer cutting end working machine was developed (TR model); this innovation, which concerned bar cutting and the transfer system, increased the number of executable operations on the piece being machined.
Since the '70s Sinico S.p.A. has demonstrated its international vocation, exporting 30% of its production. Sinico currently exports 80% of its production.
In the '80s, continuous investments, the development of electronics and the introduction of the first PLCs led to the company's international success as a leader in the production of automatic transfer machines.
In 1994, sons Alessandro and Giancarlo took over from their father in the company's management; to this day the company is 100% managed by the Sinico family.
In the '90s, Sinico products enjoyed increasing application in the automotive sector, where quality and precision find their highest expression.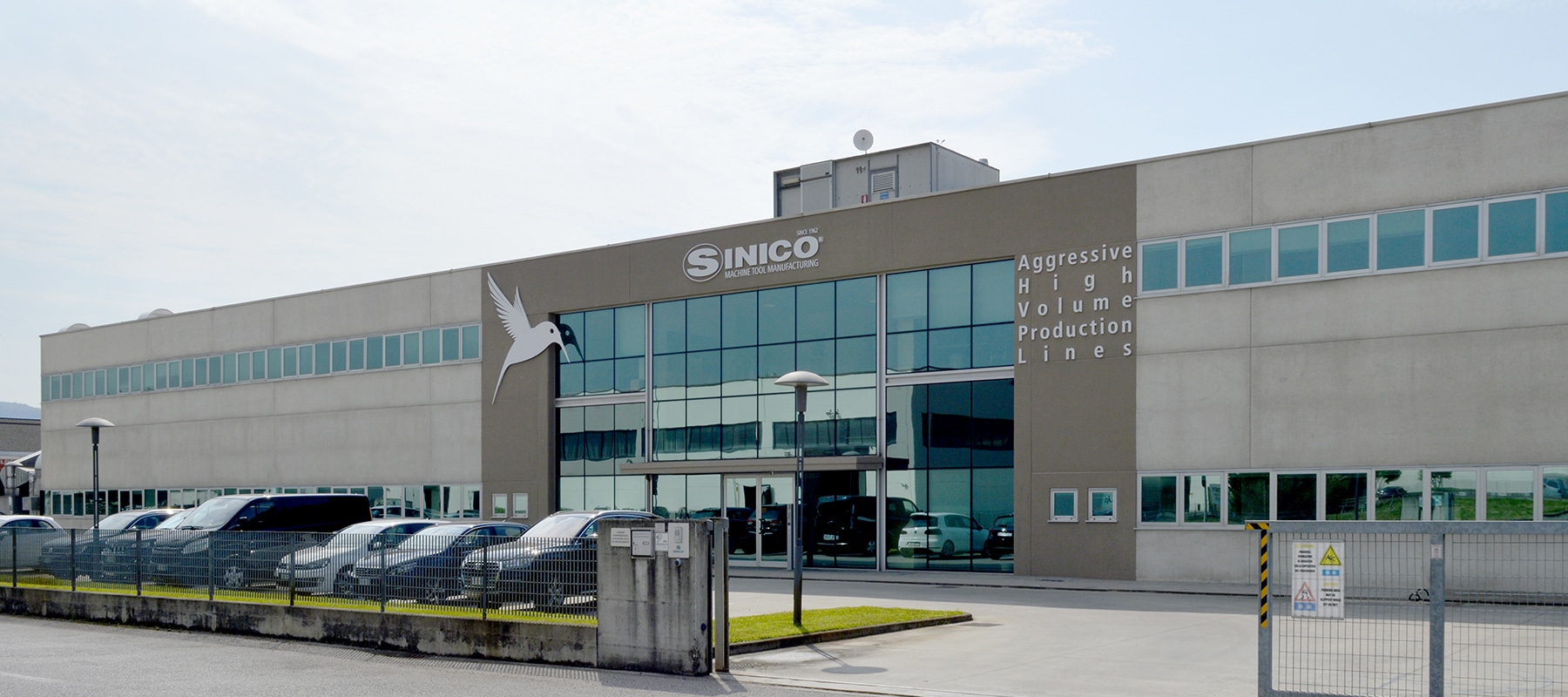 SINICO MTM S.r.l. specialises in the design and construction of AUTOMATIC TRANSFER CUTTING END WORKING MACHINES, used in the production of medium/large series of metal pieces (steel, stainless steel, copper, brass, aluminium, titanium, inconel, etc.) obtained from hollow tubes, bars, coils, forged elements and blanks. A synergy of human resources and equipment, making our company a qualified and reliable partner able to ensure the utmost competitiveness of your production lines.
SINICO MTM S.r.l., from its headquarters covering 23,000 square metres in Montebello Vicentino in the province of Vicenza, combines style with technology. Visual appeal and operational flexibility form the basis of our philosophy. Add to all this a professional policy based on innovation and investment, aimed at finalising efforts in the search for new ideas to address a dynamic, continuously expanding market.